Articles | Volume 4, issue 1
https://doi.org/10.5194/gchron-4-323-2022
© Author(s) 2022. This work is distributed under
the Creative Commons Attribution 4.0 License.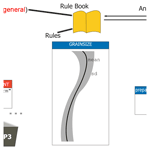 sandbox – creating and analysing synthetic sediment sections with R
Past environmental information is typically inferred from proxy data contained in accretionary sediments. The validity of proxy data and analysis workflows are usually assumed implicitly, with systematic tests and uncertainty estimates restricted to modern analogue studies or reduced-complexity case studies. However, a more generic and consistent approach to exploring the validity and variability of proxy functions would be to translate a sediment section into a model scenario: a "virtual twin". Here, we introduce a conceptual framework and numerical tool set that allows the definition and analysis of synthetic sediment sections. The R package sandbox describes arbitrary stratigraphically consistent deposits by depth-dependent rules and grain-specific parameters, allowing full scalability and flexibility. Virtual samples can be taken, resulting in discrete grain mixtures with defined parameters. These samples can be virtually prepared and analysed, for example to test hypotheses. We illustrate the concept of sandbox, explain how a sediment section can be mapped into the model and explore geochronological research questions related to the effects of sample geometry and grain-size-specific age inheritance. We summarise further application scenarios of the model framework, relevant for but not restricted to the broader geochronological community.
Received: 23 Nov 2021 – Discussion started: 02 Dec 2021 – Revised: 07 Apr 2022 – Accepted: 20 Apr 2022 – Published: 02 Jun 2022
Information about the evolution of earth-surface dynamics beyond the time span of instrumental records is predominantly gathered from sediment deposits, serving as host material of proxy data. Proxies are based on the presupposition that a specific sediment property is representative of an unknown environmental variable or can be unequivocally converted into such. The validity of proxies is usually an assumption based on conceptual relationships, modern analogue data, or physical principles. Further implicit assumptions arise from practical and methodological constraints, such as minimal post-depositional alteration, representative sampling, appropriate sample preparation and measurement, and robust estimation of uncertainty ranges. All these preconditions are typically assumed or at least considered to be of generic validity, but their impact on the interpretations is rarely tested.
Numerical modelling of the earth surface processes has reached an advanced level (Willgoose et al., 1991; Schoorl et al., 2000; Tucker et al., 2001; Lowry et al., 2013; Hobley et al., 2017). Yet, the commonly utilised landscape evolution models almost exclusively focus on specific parts of the terrestrial sediment cascade, such as weathering, erosion, and material transport processes, or at least have model-specific strengths and weaknesses in representing elements of this process phalanx. However, the formation of sediment deposits as proxy carriers is rarely considered. Most often, sediment is simply flushed out of the terminal node or pixel of the modelled area, or deposition is reduced to the pure formation of geometric bodies (e.g. Lowry et al., 2013). Despite its importance, the host material of our environmental information is significantly understudied from a numerical perspective.
Describing a sediment deposit by a model would include a geometric description of the entire body (width, length, depth) as well as a thematic description of its constituents (e.g. voids, grains and their geometrical, mineralogical, or chemical composition) by a vast number of parameters. As an example, describing a 10 m deep and 1 m wide and long column of loess would require describing as many as 1014 single grains, and each by a series of parameters. Depending on the research question, one might reduce the geometric dimension of the deposit and thus the number of individual constituents to describe. Likewise, it is possible to limit the number of parameters used to define each constituent. However, the general challenge remains. An alternative to this geometric and parametric reductionist approach is a model not at the scale of its discrete constituents but one with model-wide rules that describe the properties of potential constituents at any given location within the sedimentary deposit.
Here, we introduce the R package sandbox, a novel framework to create virtual sediment deposits. We explain the concept and structure of sandbox along with a step-by-step description of how to map a "real-world" loess section into a model. We illustrate different potential applications using simple examples, acknowledging that more realistic representations are possible with additional parameterisation efforts. While we focus on geochronometric data, various other applications can be pursued. The Supplement contains an extensive tutorial to the package, elaborated examples on how to implement more realistic deposition effects, and all code used to create the figures of this article.
2
 Philosophy and structure of sandbox
sandbox is a free and open framework to build and analyse virtual sediment sections in R (R Development Core Team, 2021). The package (Dietze and Kreutzer, 2021) is available at the Comprehensive R Archive Network (CRAN). The current developer version is available on GitHub (https://github.com/coffeemuggler/sandbox/, last access: 19 May 2022). The term framework implies that sandbox is not tailored to a specific task but instead provides methods to use the tool in different scenarios. Specifically, sandbox does not impose any default physical rules to mimic sedimentation processes. Nevertheless, such process-based rules can be implemented if desired (see the Supplement for examples). Users can reduce or expand the default range of parameters applied to describe the constituents of a sediment section.
sandbox is essentially a one-dimensional model. It describes the geometry of a sedimentary deposit only by its depth while assuming infinite width and length. Boundary conditions are treated as irrelevant apart from the distance to surface.
sandbox has a parametric (termed rule-based from here on) and probabilistic design. Sediment properties are defined by depth-dependent rules, containing the definitions of grain properties as probability density function parameters.
sandbox allows the user not only to build synthetic sediment sections but also to sample them, prepare the samples, measure them, and work with the synthetic results as with real-world measurement data. The function make_Sample() generates a finite number of sediment particles based on the rule-controlled parameters together with information on the sampling depth and sample container geometry. This step is the transition from rule-based to the discrete data realm.
Understanding sandbox (Fig. 1) requires some key terms used in the modelling environment:
Population. A population is the most basic, coherent element of the entire model. A population is a set of sediment grains with common characteristics. All grains from one population share the same (range of) properties of certain parameters, such as grain size, depositional age, or mineralogic composition.

Grain. Grains are the atomic elements of the model. They are always sampled from populations and described by a set of parameters. Each population has a defined probability of occurrence, which is defined as a parameter.

Parameter. Parameters are used to describe populations and, hence, sediment grains drawn from these populations. They can be seen as the "thematic" definition of a virtual sediment deposit. There are two major groups of parameters: general and specific. General parameters are depth-dependent sediment descriptions regardless of the population the grains are sampled from. Examples of general parameters are water content and external dose rate (ionising radiation per time unit). Specific parameters describe sediment grains with respect to the population to which a grain belongs. Hence, for each population, there is another parameter definition. Examples are grain size, element or mineral constituents, and specific density.

Rule. Rules describe how parameters change with depth. Rules can be regarded as the "spatial" definition of a sediment deposit. They are defined as interpolation functions based on parameter–depth relationships. The default interpolation function is a spline.

Rule book. A rule book is the combination of parameters ("thematic" definition) and rules ("spatial" definition) to one coherent reference book. A rule book ultimately comprises the definition of the entire virtual sediment section and generates individual samples. There is an empty rule book available by default. A user can modify a rule book's content at any time.

Analysis function. Once a rule book defines a virtual sediment deposit, it can be "exploited" using the pre-selection of available functions, for example, by generating sets of samples with make_Sample(). These samples can then be subject to additional analysis functions of the package, such as prepare_Sieving() and prepare_Subsample(). All these prepare-functions use information stored in each grain.
The R package sandbox provides a flexible and scalable framework to tackle research questions emerging from environmental reconstruction and numerical landscape representation. Its structure and available functions allow a virtual twin of given or artificially designed sediment sections to be created focusing on sediment grains and their properties along a depth vector. The current focus on geochronology is a pragmatic one. The framework can be used for numerous further cross-discipline topics, including geochemical analysis, soil formation representation, inverse modelling, and reproducible reference data set generation.
Code and data availability
MD designed the code and initiated the article. SK reviewed and optimised package code, linked RLumModel, and contributed age data for the loess section rule book. MCF advised on the early stages of the package and translated luminescence laboratory techniques to package functions. SM contributed all field-based sedimentological and stratigraphic base data and provided the grain-size measurement data and interpretation. All authors shared responsibilities in writing the article.
At least one of the (co-)authors is a member of the editorial board of Geochronology. The peer-review process was guided by an independent editor, and the authors also have no other competing interests to declare.
Publisher's note: Copernicus Publications remains neutral with regard to jurisdictional claims in published maps and institutional affiliations.
Sebastian Kreutzer has received funding from the European Union's Horizon 2020 research and innovation programme under the Marie Skłodowska-Curie grant agreement no. 844457 (CREDit).
This research has been supported by the Horizon 2020 (CREDit (grant no. 844457)).
This paper was edited by Georgina King and reviewed by Pieter Vermeesch and Greg Balco.
Arnold, L. and Roberts, R.: Stochastic modelling of multi-grain equivalent dose (De) distributions: Implications for OSL dating of sediment mixtures, Quat. Geochronol., 4, 204–230, https://doi.org/10.1016/j.quageo.2008.12.001, 2009. a
Bertran, P., Liard, M., Sitzia, L., and Tissoux, H.: A map of Pleistocene aeolian deposits in Western Europe, with special emphasis on France, J. Quaternary Sci., 31, 844–856​​​​​​​, https://doi.org/10.1002/jqs.2909, 2016. a
Blaauw, M. and Christen, J.: Flexible paleoclimate age-depth models using an autoregressive gamma process, Bayesian Anal., 6, 457–474, https://doi.org/10.1214/ba/1339616472, 2011. a
Blume, H.-P., Schffer, F., Brümmer, G., Schachtschabel, P., Horn, R., Kandler, E., Kögel-knabner, I., Ketzschmar, R., Stahr, K., Wilke, B.-M., and Welp, G.: Lehrbuch der Bodenkunde, Springer, https://doi.org/10.1007/978-3-8274-2251-4, 2010. a, b
Dietze, E., and Dietze, M.: Grain-size distribution unmixing using the R package EMMAgeo, E&G Quaternary Sci. J., 68, 29–46, https://doi.org/10.5194/egqsj-68-29-2019, 2019. a, b, c
Dietze, M. and Dietze, E.: EMMAgeo: End-Member Modelling of Grain-Size Data, R package version 0.9.6, GFZ Data Services [code], https://doi.org/10.5880/GFZ.4.6.2019.002, 2016. a
Dietze, M. and Kreutzer, S.: sandbox – an R tool for creating and analysing synthetic sediment sections, V. 0.2.0, GFZ Data Services [code], https://doi.org/10.5880/GFZ.4.6.2021.005, 2021. a, b
Friedrich, J., Kreutzer, S., and Schmidt, C.: Solving ordinary differential equations to understand luminescence: 'RLumModel' an advanced research tool for simulating luminescence in quartz using R, Quat. Geochronol., 35, 88–100, https://doi.org/10.1016/j.quageo.2016.05.004, 2016. a
Fuchs, M. and Lomax, J.: Stone pavements in arid environments: Reasons for De overdispersion and grain-size dependent OSL ages, Quat. Geochronol., 49, 191–198, https://doi.org/10.1016/j.quageo.2018.05.013, 2019. a
Fuchs, M. and Owen, L.: Luminescence dating of glacial and associated sediments: review, recommendations and future directions, Boreas, 37, 636–659, https://doi.org/10.1111/j.1502-3885.2008.00052.x, 2008. a
Fuchs, M., Fischer, M., and Reverman, R.: Colluvial and alluvial sediment archives temporally resolved by OSL dating: Implications for reconstructing soil erosion, Quat. Geochronol., 5, 269–273, https://doi.org/10.1016/j.quageo.2009.01.006, 2010. a
Galbraith, R. F., Roberts, R. G., and Yoshida, H.: Error variation in OSL palaeodose estimates from single aliquots of quartz: a factorial experiment, Radiat. Meas., 39, 289–307, 2005. a
Hales, T. C.: The sphere packing problem, J. Comput. Appl. Math., 44, 41–76, https://doi.org/10.1016/0377-0427(92)90052-y, 1992. a
Hobley, D. E. J., Adams, J. M., Nudurupati, S. S., Hutton, E. W. H., Gasparini, N. M., Istanbulluoglu, E., and Tucker, G. E.: Creative computing with Landlab: an open-source toolkit for building, coupling, and exploring two-dimensional numerical models of Earth-surface dynamics, Earth Surf. Dynam., 5, 21–46, https://doi.org/10.5194/esurf-5-21-2017, 2017. a
Kreutzer, S., Fuchs, M., Meszner, S., and Faust, D.: OSL chronostratigraphy of a loess-palaeosol sequence in Saxony/Germany using quartz of different grain sizes, Quat. Geochronol., 10, 102–109, https://doi.org/10.1016/j.quageo.2012.01.004, 2012a. a
Kreutzer, S., Schmidt, C., Fuchs, M. C., Dietze, M., Fischer, M., and Fuchs, M.: Introducing an R package for luminescence dating analysis, Ancient TL, 30, 1–8, 2012b. a
Krumbein, E. A. W. C.: The sediments of Barataria Bay, J. Sediment. Petrol., 7, 1–15, https://doi.org/10.1306/D4268F8B-2B26-11D7-8648000102C1865D, 1937. a
Lowry, J., Coulthard, T., and Hancock, G.: Assessing the long-term geomorphic stability of a rehabilitated landform using the CAESAR-Lisflood landscape evolution model, in: Proceedings of the Eighth International Seminar on Mine Closure, Cornwall, 2013, edited by: Tibbett, M., Fourie, A., and Digby, C., Australian Centre for Geomechanics, 611–624, https://doi.org/10.36487/ACG_rep/1352_51_Lowry, 2013. a, b
Meszner, S.: Loess from Saxony, PhD thesis, TU Dresden, Dresden, Germany, 2015. a
Meszner, S., Fuchs, M., and Faust, D.: Loess-Palaeosol-Sequences from the loess area of Saxony (Germany), E&G Quaternary Sci. J., 60, 4, https://doi.org/10.3285/eg.60.1.03, 2011. a, b
Meszner, S., Kreutzer, S., Fuchs, M., and Faust, D.: Late Pleistocene landscape dynamics in Saxony, Germany: Paleoenvironmental reconstruction using loess-paleosol sequences, Quaternary Int., 296, 95–107, https://doi.org/10.1016/j.quaint.2012.12.040, 2013. a
Meszner, S., Dietze, M., and Faust, D.: Grain-size data from the loess profiles Ostrau and Gleina in Saxony (Germany) (1.0.0), Zenodo [data set], https://doi.org/10.5281/zenodo.4446863, 2021. a
R Development Core Team: R: A Language and Environment for Statistical Computing, Vienna, Austria, http://CRAN.R-project.org (last access: 19 May 2022), 2021. a
Schoorl, J., Sonneveld, M., and Veldkamp, A.: Three-dimensional landscape process modelling: The effect of DEM resolution, Earth Surf. Proc. Land., 25, 1025–1034, https://doi.org/10.1002/1096-9837(200008)25:9<1025::AID-ESP116>3.0.CO;2-Z, 2000. a
Sheldon, N. and Retallack, G.: Equation for compaction of paleosols due to burial, Geology, 29, 247–250, https://doi.org/10.1130/0091-7613(2001)029<0247:EFCOPD>2.0.CO;2​​​​​​​, 2001. a, b, c
Tucker, G., Lancaster, S., Gasparini, N., and Bras, R.: The Channel-Hillslope Integrated Landscape Development Model (CHILD), Springer US, Boston, MA, 349–388, https://doi.org/10.1007/978-1-4615-0575-4_12, 2001. a
Vandenberghe, J.: Grain size of fine-grained windblown sediment: A powerful proxy for process identification, Earth Sci. Rev., 121, 18–30, https://doi.org/10.1016/j.earscirev.2013.03.001, 2013.  a, b
Weltje, G. J.: End-member modeling of compositional data: Numerical-statistical algorithms for solving the explicit mixing problem, Math. Geol., 29, 503–549, 1997. a
Willgoose, G., Bras, R. L., and Rodriguez-Iturbe, I.: A coupled channel network growth and hillslope evolution model: 2. Nondimensionalization and applications, Water Resour. Res., 27, 1685–1696, https://doi.org/10.1029/91WR00936, 1991. a
Zech, M., Kreutzer, S., Zech, R., Goslar, T., Meszner, S., McIntyre, C., Häggi, C., Eglinton, T., Faust, D., and Fuchs, M.: Comparative 14-C and OSL dating of loess-paleosol sequences to evaluate post-depositional contamination of n-alkane biomarkers, Quaternary Res., 87, 180–189, https://doi.org/10.1017/qua.2016.7, 2017. a, b
Zeeden, C., Dietze, M., and Kreutzer, S.: Discriminating luminescence age uncertainty composition for a robust Bayesian modelling, Quat. Geochronol., 43, 30–39, https://doi.org/10.1016/j.quageo.2017.10.001, 2018. a